Arksen, the highly creative, fairly new British builder, just launched its first 85 Explorer that's built to cut through ice and survive a 360-degree rollover. It also has a range of 6,000 nm at 7 knots, according to the company.
The key to the new 85 is Arksen's all-aluminum, lightweight, slippery, fuel-efficient, semi-displacement hull developed by Rob Humphreys Yacht Design and subjected to some sophisticated testing. The hull, which has broader and flatter aft sections, is meant to be indestructible, and it's built to commercial specifications, meeting the UK's Workboat Code for unrestricted ocean voyages.
The interior is by Design Unlimited, which usually works on superyachts. The new Arksen 85 has four staterooms for ten guests plus quarters for four crew. It's designed to provide safe and comfortable cruising whether for a weekend jaunt near home or a voyage to remote areas of the world.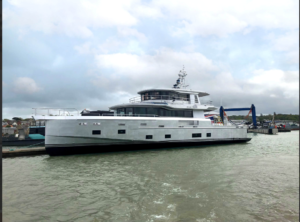 Built on the Isle of Wight, the 85 Explorer has a hybrid power system including three 200kW generators, two 80kWh lithium ion battery banks and two 250kW electric motors. Solar cells on the roofs of the upper and lower decks can provide 5kW on sunny days, enough to help power the boat's hotel load. It has a 9- to 12-knot cruising speed, and a 14-knot top speed.
For cruising comfort, it has two Seakeeper gyro stabilizers, and to help with the boat's trim, it has Sweden's' Humphree Interceptor trim tab system running across the stern.
Right now, the Arksen 85 is having sea trails before it's delivered to its new owner, who plans to spend the summer cruising the Med with his family before perhaps undertaking more strenuous passages.
Arksen is building hull number two of the 85 and plans to launch it later this year. It has an order for number three.
Arksen is an unusual company. The 85 is the company's flagship; it also builds a 75 and a 65 in its Explorer series. But it also makes small boats, introducing a 28 and 32 to the U.S. market at the Palm Beach show in March.
Arksen is the brainchild of Jasper Smith, a high-tech entrepreneur who founded Playjam, the games network. He wanted to build environmentally friendly expedition yachts capable of cruising rough waters anywhere in the world. He also created an in-house Explorers' Club to provide logistical support to help owners start their own adventures.
Specs.: LOA: 89'5"; Beam: 22'6"; Draft: 5'; Disp.: 82.5 tons; Fuel: 4,755 gals.; Water: 1,585 gals.; Power: 2x250kW electric motors. Read more: