Mercury Marine just launched its new Avator 20e and 35e electric outboards that you can order now. Mercury launched its first electric outboard, the Avator 7.5e, at the Consumer Electronics Show last January.
John Buelow, the president of Mercury Marine, said the two new outboards "set new benchmarks for innovation, performance, and connectivity."
The 20e and 35e have many of the same features as the earlier 7.5e, including transverse flux motor technology, color display, and ambidextrous tiller handles. They also can be connected to multiple Avator batteries to extend their range and run time, and they have access to the Mercury Marine app.
Mercury says the 20e has the same acceleration as its 5-hp four-stroke outboard, while the 35e is comparable to the 9.9-hp four-stroke.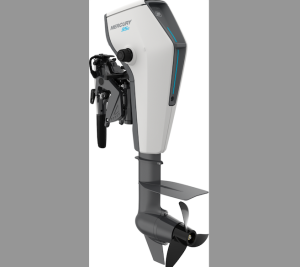 Both are offered with either tiller or remote steering, and both can be connected to as many as four of Mercury's new 2300Wh batteries. The batteries were developed with Mastervolt, another Brunswick brand. Boat owners can order one, for simplicity and portability, or they order up to four and add an Avator Power Center to connect them all in one place. The connections are easy, with just a twist-lock connector; you don't need any tools.
The charger can charge a fully depleted battery in about ten hours. A higher speed 520W charger can cut that time in half.
Mercury says its transverse flux technology delivers a quiet outboard. Indeed, the 35e is 63 percent quieter than a 6-hp four-stroke outboard at full throttle, according to the company.
Read more: http://mercurymarine.com/avator