The eye-catching Tyde Icon, with looks like nothing else on the water, will make first show appearance at the Cannes Yachting Festival starting on Sept. 12.
The all-electric Icon is a foiling luxury vessel, using leading-edge technology to provide a smooth, and quiet, ride for a group of passengers. The 43-foot boat is powered by two 100 kW electric motors giving it a top speed of 33 knots and a range of more than 50 nm at its cruising speed of 24 knots. It comes with a battery capacity of 240 kWh.
The Icon has a beam of 14' 7" and a draft of 6' 1" at displacement speeds and just 2' 7" when it's foiling.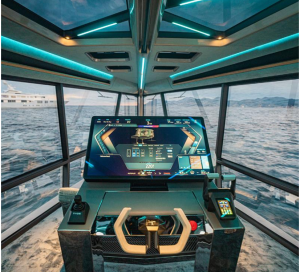 The unique shape includes glass sides, with prismatic window and roof surfaces. Tyde, a high-tech German startup, collaborated with BMW on the Icon. It was designed by Dreamworks, a subsidiary of the BMW Group with studios in Los Angeles, Munich and Shanghai.
The center rises from the hull on both sides, giving full headroom to passengers inside. It has LED light strips and charging connection points at the bow and stern.
Tyde was started two years ago by two entrepreneurs, Christoph Ballin and Tobias Hoffritz. Ballin was a founder of Torqeedo, and Hoffritz was a new technology developer at BMW. The Icon uses some of BMW's electric car technologies.