Safehaven Marine in Cork, Ireland, just announced that they're building a new "extreme explorer" high-speed catamaran with a hydrofoil and ocean-crossing range.
Safehaven says the new T-2000 Voyager is its most extreme recreational boat ever, and is designed to be the ultimate explorer yacht. Powered by twin 1,550-hp MAN V12 engines, the T-2000 Voyager will have a top speed of more than 50 knots. The 65' 7" boat carries 2,900 gallons of fuel, giving it a range of 1,700  nm at 16 knots, and 3,000 nm at 9-10 knots, according to the builder, all with a safe reserve of fuel.
The idea of a high-speed explorer is that the owner can take advantage of a weather window to cruise to (or from) a remote part of the world quickly and safely. Safehaven has some experience here. Founded in 1996, it has built more than 160 boats so far, including many patrol and pilot boats, as well as recreational vessels.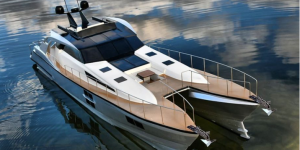 The T-2000 Voyager hull is a bit unusual. The boat has a 20' 6" beam, relatively narrow for a large catamaran, with a hydrofoil between the hulls and inverted bows that provide a fine entry to cut through waves as well as maximizing the waterline length. The cat also has a lot of topside flare to throw spray clear and keep the boat dry. And the bridge deck is set back more than 11 feet to minimize the chance of waves slamming into it in head seas.
The hydrofoil comes into effect at 20 knots. The company says it improves high-speed efficiency about 20 percent by reducing drag and resistance.
In the first boat, the twin MANs are paired to Twin Disc "quickshift" gearboxes and surface-piercing drives. Safehaven says it can make future models of the T-2000 Voyager with many combinations of shaft or pod drives and heavy-duty engines per an owner's requests.
The standard layout includes three cabins, with the owner's suite in the starboard hull and a VIP cabin and a guest cabin in the port hull. The helm is located on the centerline in the wheelhouse; a lounge is on the starboard side and a galley to port. There's a glass pane in the sole so you can keep a close watch on the hydrofoil.
Read more: https://www.safehavenmarine.com/single-post/new-2024-t-2000-voyager-20m-high-performance-long-range-blue-water-explorer-catamaran-revealed